Let's start the month with a bit of new Attack the Block artwork
— James White (@Signalnoise) August 3, 2015
And then there is this mash-up
— Nother Brother Ent. (@NotherBrother) August 3, 2015
— Emily Riggs (@pyrodogpins) September 17, 2015
Then there was this poster and brief review from the
Green Man Festival
(the one in the Brecon Beacons).
— Luke Drozd (@lukedrozd) August 12, 2015
Adam played Brighton.
— The Old Market (@TOMvenue) September 3, 2015
Radio Times
did a piece on adverts before people were famous and somehow, on that pretext, they decided to shoe-horn Adam's video of him larking around with Joe and Louis. Imagine?
I was thrilled to attend BUG 48 tonight because Jonathan from Everything Everthing was the guest. That's double win, for the record.
— Phil Tidy (@philtidy) September 4, 2015
Then he was up to Manchester for a birthday gig.
— mark hodgson (@123_markh) September 5, 2015
This was pleasing
@AdamBuxton

you're on a train with a great guy who considers you his hero. He's freaking out. Pls be nice if he gets the balls up to say hi.

— Stephanie Bartlett (@StephanieEphani) September 6, 2015
— Harry Whittaker (@HarryTwittaker) September 6, 2015
Messy Goes to Okido aired for the first time on 7th September.
And the following week, it happened. The imbalance on the planet shifted a little way back into place as Adam launched Series One of his own
podcast
, starting with Louis and Baaadad. Wired got in quick with an
interview
.
As you can imagine, it shunted it's way to the top of the podcharts quicker than you can say "bread rolls"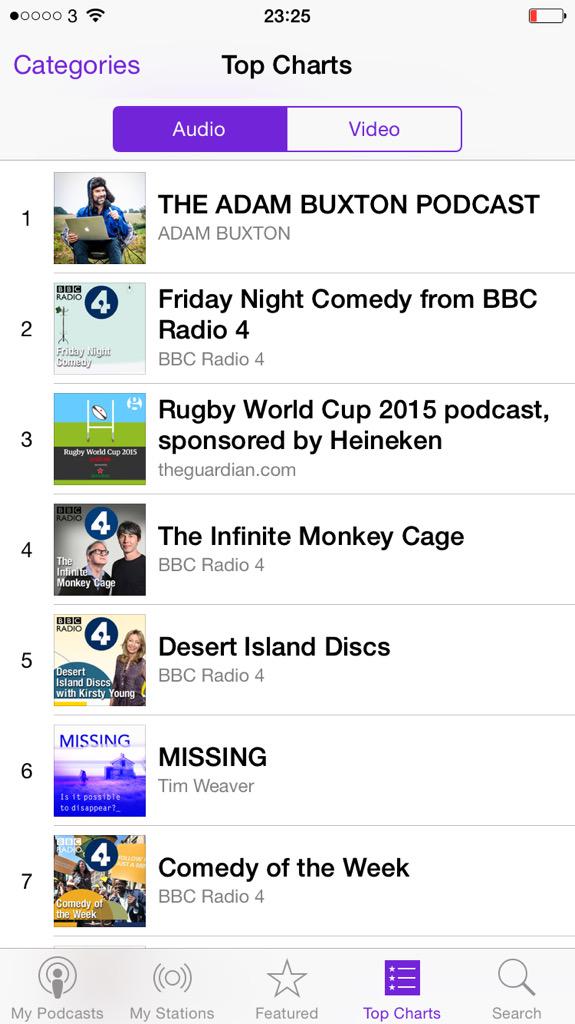 As the weeks rolled on, the wonderful Sally Grosart persisted in illustrating each pod. Adam has put most of them on his blog but just in case, they're gathered
here
.
Toward the end of the month, Adam hosted the AV Awards.
— Saville AV Guildford (@SavilleAV_GU) September 25, 2015
— AV Magazine (@AVMag) September 30, 2015
And Joe went to a BFI event in Manchester to discuss his film from the olden tymes.
Got super excited to meet a hero of mine, Joe Cornish. Somehow managed to play it cool and not break in to song wars

pic.twitter.com/QmUXpd7wuI

— Tessa Inkelaar (@Tess_mon) September 26, 2015
This sort of thimg amuses me(follow conversation).
Casually listening to

@AdamBuxton

's podcast on the train, and as if by magic he walks past me, probably to the loo. Hello!

— Joseph mears (@Mearsie33) October 5, 2015
I don't know if you knew this already but John Boyega, who was Moses in Joe's Attack the Block, has been cast in the latest sci-fi sensation. He talks about it
here
.
Adam will do anything for a free dinner but hosting catering awards was more than he could have hoped for.
— Caterertweets (@Caterertweets) October 16, 2015
Excellent Visual Find of the Year goes to this:
— Raving Ponce Machine (@AuntieNubbins) October 19, 2015
I don't even know what Pro Max UK is and I'm certainly not going to waste any internet time looking it up.
— Lucy Badger (@SparkleBadger) October 30, 2015
The original Saltyman made a film for Adam's intro jingle.
Scroobious Pip invited Adam into his podcast shed and while he was about it, they did a switcheroo in the interviewer/interviewee department.
— Scroobius Pip (@Scroobiuspipyo) October 29, 2015
The top secret film that Garth Jennings teased in Adam's podcast was
made public
.
Adam took two BUG Specials to Barcelona - Radiohead and Bowie.
Then he raced back to London for the Beatles BUG Special.
November 3rd also brought the news that Channel4 have commissioned a full series of the Graham Linehan & Adam Buxton comedy "The Cloud" on the strength of the unaired pilot they did. More deets
here
.
This tickled me,
— Steven Chicken (@StevenChicken) November 2, 2015
Film4 showed Attack the Block in it's rightful slot - late on bonfire night.
No peace for the delightful. Adam hosted the UK MVAs on bonfire night.
and a couple of days later, he was at the Union Chapel.
— Anna Leahy (@AnnaHLeahy) November 7, 2015
....then another charity gig at KOKO
— Steve Best (@SteveBestComic) November 26, 2015
Miranda Sawyer has been holding the flag high for Adam and Joe over the years and is firmly behind Adam's podcast. You can listen to In Pod We Trust
here
.
On the same weekend, Gemma Cairney featured an old "Best of Adam And Joe" sequence on this
show
.
Then the month of November ended with the sad passing of Nigel Buxton. The news didn't break until a couple of weeks after the fact but the fascinating obituary is
here
.
Nigel made blog entries from time to time, which you can read
here
. He had an incredible life and my heartfelt pained facial expression goes out to Adam and his family.