As I'm writing this in August (you'll have to read
here
to find out why) the
Bowie Is
exhibition has been and gone from these shores but Adam's
6Music Bowie Special
aired in April and was a wonderful treat, soon followed by a BUG Special during the
Bowie Weekend
held at the V and A. Those lucky few who marched up to demand free entrance were treated to over an hour of delicious waffle from Adam on his most beloved topic including two beautifully rendered video versions of the imagined conversations first aired on 6Music.
Intimate 6Music friend, Chris Assault with a Deadly Weapon
Saltyman
Salt made a Lego version of Bowie's re-inventing discussion with Angie and
The Layzell Brothers
visually realised the exchange between Bowie, Visconti and Eno. These videos will not be available online until the current format of Kernel Panic has ended as they're best viewed up big.
Sally Grosart has also made a
Bowie Paper Person
.
Adam's performances at the regular BUG shows are so thoroughly enjoyed but by their nature, require a structure based primarily upon showing the recent output of talented music director types from far and wide. By building material for his own show, Adam can lark around like a ridiculous ponce, showing the things he really enjoys and inserting more of his own work, in the tireless manner that he brings to anything to which he contributes. The result of this is
Kernel Panic
.
This new strand to his repertoire is being managed and marketed by the delicious people at
The Invisible Dot
and as an aside, I cannot recommend their venue(s) more highly. The tiny room in King's Cross is particularly good fun in the hot weather - if your idea of fun is being deprived of oxygen and melting into a pool of sweat. It's all worth it though. This Spring and early Summer we have been spoiled by the chance to see warm-up performances from some of the UK's most celebrated comedians, including Adam's Work In Progress.
Adam has also joined Peter Serafinowicz to add his voice to
Lego City Undercover
, if you have a game machine. Did I mention that last month at all?
Adam popped up in a couple of episodes of
It's Kevin
. Look at the
clip
, why don't you?
Michael Towers made this 1" homage to the Fist In Chips waffle.
This rather lovely tweet popped up in April too.
@CedricLeMoyne Found this I took from same LA era! @franhealy @AdamBuxton & @nigelgod ! Good times! pic.twitter.com/fGpgXjvalj
— Orla Hannon (@redOrly) April 7, 2013
It's always fun when someone takes a snap of Adam's desktop folder.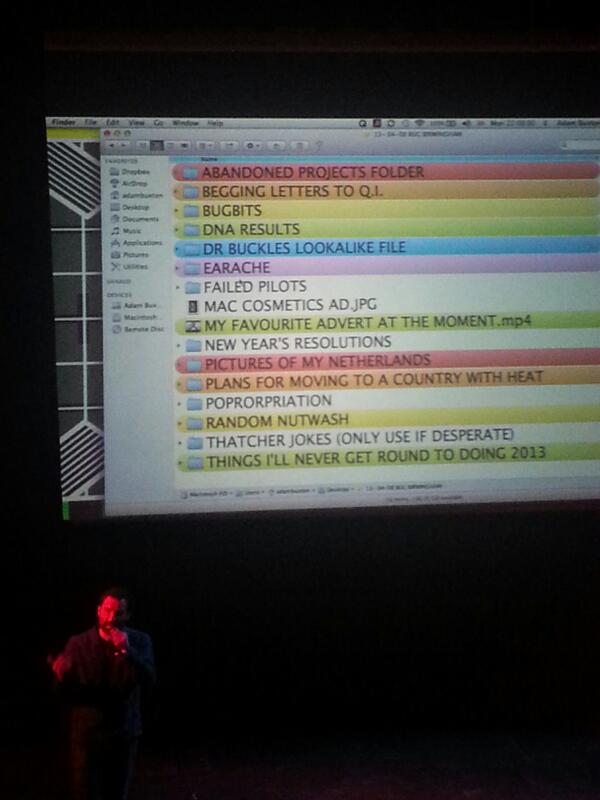 It's not quite all about Adam this month.
Luke Treadaway, who played Brewis in Attack the Block, deservedly won this year's Best Actor
Olivier Award
for his portrayal of Christopher in The Curious Incident of the Dog in the Night Time.
Elizabeth Donnelly
reminisces
about the last time Wright, Pegg and Frost hit the roads of Americas (with Joe too).
Edgar Wright held and introduced his Screen Epiphany at the BFI, a clip of which is
here
. His buddy and sometime writing partner, J M Cornish folded his long shanks into a chair at the NFT1 to watch too.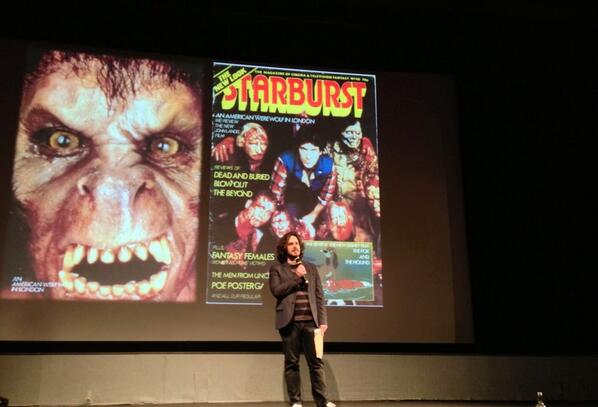 Speaking of Ant-Man (as I was, obliquely), you can read a Marvel-based update
here
.
Tyler Stout
has made some wonderful limited edition posters for Attack the Block.