I'm so horribly behind with this blog that I'm going to try three months at a time. It'll make it a bit lumbering but I can apply the toffee hammer at a later date, I suppose.
One of the first things Adam did this month was break Twitter with a
hashtag
. Days of mirth ensued.
— Margaret Canning (@MargaretCan) May 2, 2015
Ah. Good times.
— Olie (@Darksavior_) May 1, 2015
I am over twelve and what is
this
?
Adam and Joe's Bobby De Niro song nicely shoe-horned in at
Sabotage Times
.
In the absence of any news from Lord LongShanks, I am going to post a Joe Cornish Photography tweet each month until the rotter shows his pale hand.
What? Has he started a band now, without Adam? RT

@Ffordesphoto

: Joe Cornish and all the Leica Toys

— Raving Ponce Machine (@AuntieNubbins) May 3, 2015
May 1st apparently heralded the last day of recording for
Messy Goes to Okido
. This is a show made for CBeebies and has 52 x 11 minutes episodes, a
pparently
.
— Kate Harbour (@KateHarbour) May 1, 2015
Out of the blue, a little film popped up on the
Channel 4 website
featuring Adam Buxton and Romesh Ranganathan discussing some sort of gaming thing. It's explicite so I won't embed it.
Adam joined
Ruth and Martin's Album Club
for some waffle about Light Up Gold by Parquet Courts.
Bank Holiday Monday got off to a slow start so I posed a question, that was correctly answered.
In the middle of the month, Zoe Ball delighted us with a real sighting of the elusive Cornballs at the Man Up premiere.
— Zoe Ball (@ZoeTheBall) May 14, 2015
Adam (and Joe) was confronted with two copies of Song Wars Volume 2 to sign at The Idler gig.
— julia alexander (@jdalexander01) May 15, 2015
On 21st May, Adam spoke to ex 10CC guy & music vid directing behemoth
Kevin Godley
about his book Spacecake at the Apple Store, Regent Street. I've either lost the link for the podcast, or it was never put on iTunes.
— Sarah Wright (@SarahJoWright) May 21, 2015
— pete mckenzie (@petemck86) May 23, 2015
— Anys Williams (@AnysAMA) May 24, 2015
— Ilkley Film Festival (@Ilkleyfilmfest) May 24, 2015
There are more Ilkley photos
here
and
here
.
June kicked off with
BUG 47.
The guest directors were
Becky and Joe
and this heralded the return of Adam in the hosting costume.
— blink (@thisisblink) June 12, 2015
June is the month of Adam's birthing anniversary too.
— Garth Jennings (@GarthJennings) June 7, 2015
He also took a Best Of BUG to DOCFest in Sheffield again this year.
— Sheffield Doc/Fest (@sheffdocfest) June 10, 2015
Mid-month, Adam hosted the RTS Awards for SkyArts. There are some clips
here
.
On 24th June Adam was meant to be on telly for Would I Lie to You (Repeat) and Catsdown, but the latter was swapped for a different episode. Didn't bother Adam though - he was playing Bush Hall that night.
The month rounded off with another repeat of
Adam and Joe's Famous Guy
on Four extra.
July pretty much began with Manchester International Festival and Adam was on RadMac's 3rd July show to celebrate. He also took part in a
performance capture
event for
Ed Atkins
.
July 3, 2015
— ThatBurtKwoukfella (@ThatJoelfella) July 3, 2015
— Raving Ponce Machine (@AuntieNubbins) July 3, 2015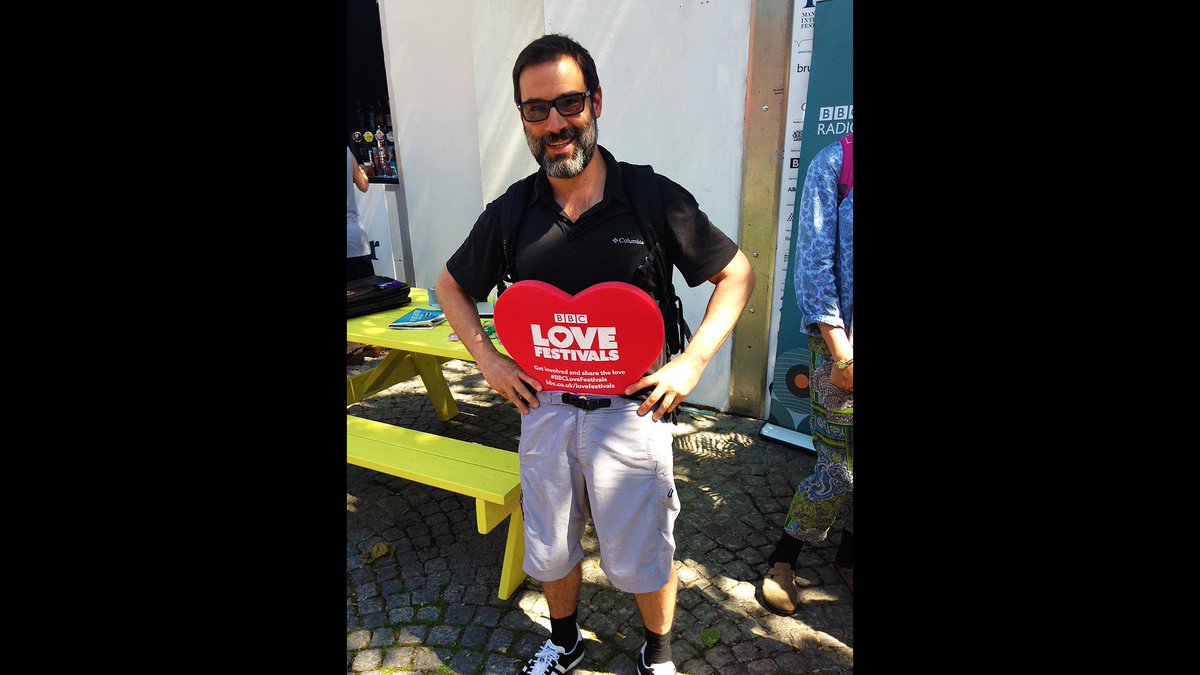 I've probably put too many pictures in here but I'm giddy at the thought of Adam being so close to Tim Key.
— Ellie White (@EllieWhite5) July 4, 2015
Adam returned to London to present a
New Director's Showcase
for Saatchi at the BFI.
Anton Savage interviewed Adam ahead of his Dublin show and on the self-same day, the loon did the
Comedian's Comedian Podcast
in London's Soho Theatre, then raced down to Bristol on one of those taxi-bike things for a late show.
— Rob Bell (@MrRobBell) July 7, 2015
Looks like he managed to sort out accomodation for a layover in Bristol, though. Show reviewed
here
.
— BristolComedyGarden (@comedygarden) July 10, 2015
Tom Dunne
interviewed Adam via the phone on his show, ahead of the Vodaphone Festival in Dublin and there was a review
here
.
I do enjoy a bit of random mid-month pleasure
— Stan (@RobertStanners) July 17, 2015
There was a free screening of Attack the Block in Brooklyn
— Raving Ponce Machine (@AuntieNubbins) July 24, 2015
Franz Drameh on the screen and Liberty in the background.
— NewYork TaxiCab (@aNYTaxiCab) July 24, 2015
Adam's new episode of Catsdown was aired on 25th July, finally.
I call this picture "Happy in Dublin"
— Sarah Ellard (@sarahellard1111) July 28, 2015
The month ended on a sadder note and Adam was moved to tweet a tribute.
To me Cilla was the Queen of dating shows, Queen of Surprise shows and also, the actual Queen. Lorra lully thanks and bye.

— Adam Buxton (@AdamBuxton) August 2, 2015